We are changing the way that care is planned and delivered at Lancashire and South Cumbria NHS Foundation Trust.
This follows new guidance from NHS England for every adult accessing community-based care. From 2022 we will co-produce a holistic personalised care and support plan with every individual and provide a named key worker they can contact if their needs change.

The new care planning approach, called DIALOG+, makes it much easier to co-produce a personalised care and support plan. This replaces the Care Programme Approach (CPA).
Research shows DIALOG+ significantly improves quality of life and care experience and will roll out across the Trust from Monday 3 October.
We will be telling service users and carers more about this change during the next few months and are planning for everyone at the Trust to be using DIALOG+ by the end of 2023.
Community teams are reviewing all cases to make sure everyone has a named key worker as part of the transition to new core community mental health teams. In most cases, the named key worker will be the existing care coordinator, lead professional or person they'll meet at their next appointment.
What are DIALOG and DIALOG+?
DIALOG is a scale of 11 questions. People rate their satisfaction with eight life domains and three treatment aspects on a 7-point scale. DIALOG provides a score for subjective quality of life and a score for treatment satisfaction. The scale is part of the DIALOG+ intervention but can also be used on its own.
DIALOG+ is a full therapeutic intervention. It incorporates the DIALOG scale but goes far beyond administering a scale.
DIALOG + is the first approach that has been specifically developed to make routine patient-clinician meetings therapeutically effective. It is based on quality-of-life research, concepts of patient-centred communication, IT developments and components of solution-focused therapy, and is supported by an App. Research studies in different mental health services and multiple countries have shown that using DIALOG+ can improve patients' quality of life.
See our patient leaflet on DIALOG+ here
Watch this video to see how DIALOG+ works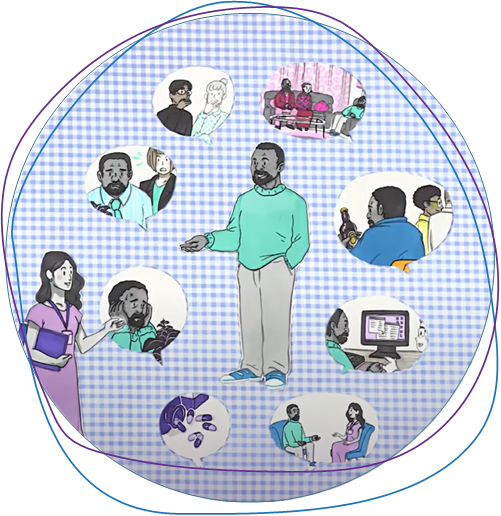 Illustration credit: Healthy London Partnership