Plans are taking shape as building work continues at our new multi-million pound mental health facility in Whalley.
Officially named 'Woodview' by service users, the facility is over five months into a complete transformation, which has included remodelling and modernising of the interior, with an enhanced focus on patient safety.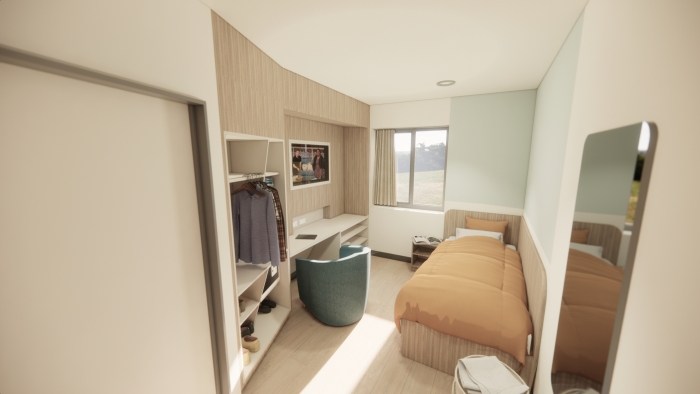 The Woodview building is on the former Calderstones site off Mitton Road and offers an ideal therapeutic countryside environment to assist in the treatment and recovery of those who require enhanced mental health support, allowing them to be closer to their families and loved ones.
Due to be completed in summer 2023, the unit will house 32 additional beds for acute and intensive care.
Director of Operations from our Pennine Network, Jane Munton-Davies said:
"We are really excited to see things developing at Woodview, which remains an illustration of our commitment to provide safe, supportive patient-centred care with a focus on recovery and wellbeing, to people across Lancashire and South Cumbria.

We are actively involving service users in shaping what the building will look and feel like, from initial design collaboration to décor, furniture and the woodland theme which will run throughout."
The Trust is currently scoping options on what it may be able to deliver from the rest of the 100 acre site going forward.
Chief Executive Officer (CEO), Chris Oliver, added:
"It fills me with great pride to be able to assure people that this site, rich in its history, will remain in the NHS family.

We are currently exploring whether we will be able to deliver other complementary health and care services from the rest of the site in the future. We remain committed to engaging with the community and local groups, respecting the history and upholding the traditions of the site.

We appreciate that there will be some concern from local residents about future plans and at this stage, we are able to say there are no plans for any residential houses to be built on the land.

We can also confirm that some service users currently living and receiving treatment at specialist houses on the site will remain there; their on-going care is of utmost importance to us and they have been at the heart of our considerations."
A new email address has been set up for people to get in contact with the Trust about the site.
Chris continued:
"We want the community to engage with us and so we are asking them to let us know how they would like to be kept informed via our dedicated email address, Whalley@lscft.nhs.uk."
The site is currently occupied and operated by Mersey Care NHS Foundation Trust, which will continue to provide services there until October 2023, when it will formally transfer to LSCft.
We will continue to work closely with Mersey Care to ensure a smooth transition for service users and colleagues who work at both trusts.