Our feet have 26 bones, 33 joints and more than 100 muscles, but how many of us know the importance of podiatry and foot care?
Leticia Heys, one of our specialist podiatrists based in Lancashire has worked for the Trust for over 15 years and has a real passion for podiatry. With a long family history of diabetes resulting in limb amputation, Leticia brings her own personal experiences to her professional life to provide the best care possible.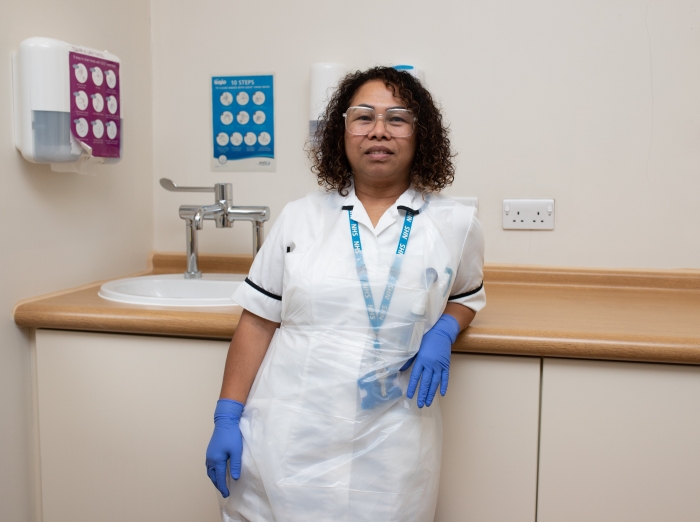 Leticia is part of a dedicated team based at Barbara Castle Way in Blackburn. The Podiatry Team specialise in treatment concerning feet including minor foot surgery to treat ingrowing toenails, biomechanical assessments for insoles, routine care for high risk patients and a variety of wound care.
Leticia explained:
"Through my family history I have experienced the impact limb amputation can have, as my mother and grandma have both lost limbs as a result of their diabetes. This is where my passion for caring for feet comes from, when I can see my care making a difference it is really rewarding. If I can save a limb then I know I've done a good job."
Mr Mohammed Noman has been a patient of the Trust since 2015, receiving a variety of care due to his complex needs linked to his own diabetes.
Mohammed describes:
"I first experienced problems with my legs whilst on pilgrimage to Mecca when I developed an infection. The medical staff who provided my treatment at the time wanted to amputate my leg immediately, luckily for me, my wife refused the operation on my behalf and we returned home to begin my treatment journey with LSCft."
Mohammed attends appointments weekly where he receives care including dressing changes, replacement casts and monitoring for further developments which may require additional care. Most of these appointments happen at the clinic but as Mohammed suffers with other health conditions his appointments may be conducted at his home or within a hospital setting.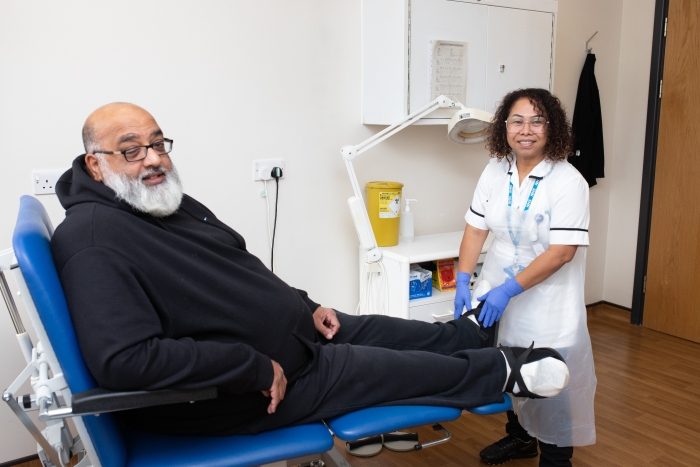 Mohammed continues:
"Leticia is fantastic, she is so dedicated and supportive and I always feel like she is advocating for me to receive the best care. She isn't afraid to challenge and actively chase other medical professionals involved in my care to make sure my wounds and feet are never neglected. She links in with my family and involves them in my care so everyone is equipped to offer me support at home.

I like to have an active input into my care and conduct my own research, Leticia keeps me updated at every stage and we are a team who work together on my care. I have a positive outlook to life and I feel lucky to have Leticia and my support network around me."
When caring for patients who are diabetic, the clinic provides holistic assessments, looks at vascular status and the supply to the limbs, reviews medication and referrals can be made for further intervention treatments including group sessions and diet management.
Leticia concluded:
"I'm happy to provide a service and make a difference, When I first started working as a podiatrist, a colleague said to me I wouldn't last longer than two years and after more than 15 years I am still here and more passionate than ever."
Find out more about our Podiatry services