Since its launch in 2019 the Recovery College has been developed alongside LSCft service users and our local community, who are always at the heart of every decision. We've listened to your feedback and need your help in renaming the Recovery College to help everyone understand what we do a little better.
Our focus is a little different to traditional models of health care, focusing on preventing ill health, living well with a diagnosis, life beyond services and connecting people to a wide variety of opportunities and support in their local community.
What we do
Recovery College offers courses, workshops and social opportunities that are co-produced and co-delivered alongside people with lived experience and professionals by experience, providing accessible and fun health and wellbeing opportunities important to you.
All of our courses are available to anyone aged 16 and over, delivered both online and from either of our two sites. The Recovery College has two sites in Preston and Burnley which provide friendly community spaces where people learn and share, if they wish, without feeling judged. We are here to learn alongside one and other, sharing our lived experiences to improve mental health support and community.
A new name
The services, courses and ethos of Recovery College is not changing and we will be keeping our iconic tree logo and branding colours, but following feedback the decision has been taken to relaunch with a new name and here is where we need your help.
Whether you work with us, enrol with us, volunteer with us or are a local community member the Recovery College is coproduced with you and for you.
Below are a list of key words associated with Recovery College which might inspire your choices, but please think creatively and freely with your suggestions.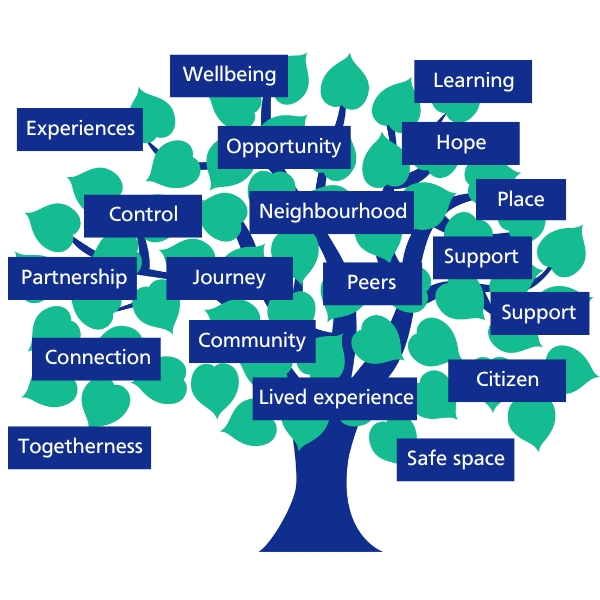 Wellbeing

Learning

Hope

Opportunity

Control

Connection

Community

Citizen

Support

Lived experience

Safe space

Journey

Peers

Experiences

Togetherness

Partnership

Place

Neighbourhood
Your entry
Please title your email, 'renaming recovery' and send your suggestions and any supporting information by Sunday 18 June to recovery.college@lscft.nhs.uk
We will be shortlisting down to a final choice of 5 names and will open a vote Friday 23 June to decide our winner, so watch this space and make sure you're following our Facebook and Twitter accounts.
Each of our five finalists will receive a prize of appreciation with our overall winner recognised with a merchandise pack to launch our new name!